Located in the heart of Washington's North Cascades Mountains, Holden Village is an iconic retreat center that offers visitors a unique opportunity to step into the wilderness to form and renew their relationship with God, the earth, and each other.
Over the course of more than 60 years, Holden Village has been transformed from a copper mining town to a vibrant place of education, programming, and worship where everyone is welcome and embraced, regardless of race, ethnicity, religious background, gender identity, sexual orientation, and ability.
Holden Village is the perfect setting for visitors and volunteers to seek rest and renewal. The rustic buildings surrounded by forest and mountains allow guests to un-plug from their daily to-dos and connect with themselves and others in purposeful work, recreation, worship, and shared meals with good company.
Holden Village cultivates a more just, sustainable, and compassionate world.
Growing from the love of Christ, Holden Village is a courageous community that welcomes all people into the wilderness to form and renew their relationships with God, the earth, and each other.
Holden is a gift and an invitation to build and practice community both within the Village and in the greater world.
We Value:
Our place in the wilderness that nurtures spiritual, emotional, and physical growth
Our Lutheran roots, which strengthen us to face the world with faith and good courage
Community-building, through hospitality, dialogue, justice, liturgy, humor, solace, and wholeness
Our rhythms of Village life
We Commit to Be…
A community in which daily life is meaningful
A community that embraces the intellectual, spiritual, and emotional aspects of faith
A community where questions are valued and encouraged
A community that lives out its mission with joy, participating in the gracious love of God.
This Valley has existed for millenia, carved out by glaciers and defined by Indigenous people and their care for this place. We live and gather upon the homelands of the Chelan, the Entiat, the P'Squosa, the Wenatchi-Colville and the Wenatchi-Yakama Tribal Nations. And we commit to resisting erasure of Indigenous people and stories, following Native leadership, and centering tribal voices.
Holden Village welcomes and embraces people of all races, ethnicities, religious backgrounds, physical abilities, gender identities, and sexual orientations. Holden Village has been a Reconciling in Christ congregation since 1985.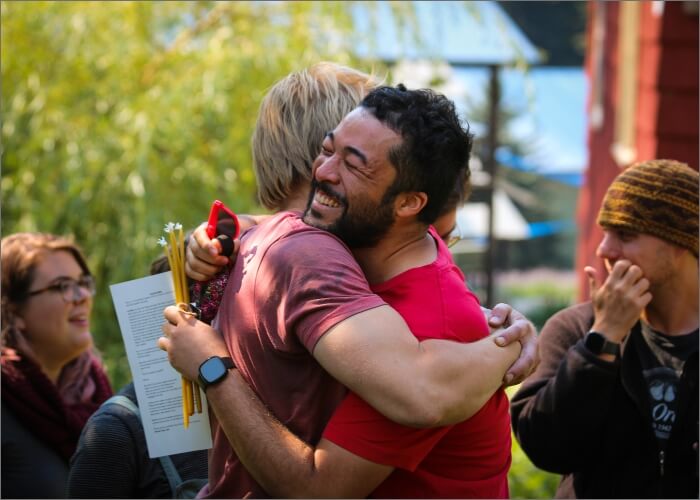 For the sake of Justice, Holden is called to:
Foster Diversity through deliberate invitation and welcome;
Deploy an ethic of Equity to confront and dismantle systemic oppression; and
Practice Inclusion by listening to, learning from, and being transformed by marginalized voices,
In order to become, together, the community for which God longs.
In their shared leadership vision, Kathie, Mark, and Stacy contemplate a Holden Village for the Life of the World. They hold common commitments to nurturing and empowering community that engages diversity, interfaith dialogue, spiritual practice, environmental justice, and holy hilarity.
Kathie Caemmerer-Bach, holding an MA in Education, has served in leadership positions with educational institutions both internationally and in the Pacific Northwest. Most recently, as Chief Academic Officer and Head of School for two innovative nationwide school organizations, she has overseen programming, faculty, personnel, and budgeting. Integral to her extensive career has been a lived commitment to educational equity and diversity. A fun Holden connection is that Kathie is the daughter of Richard Caemmerer, the Holden icon who painted the mural on the Village Center ceiling.
Stacy Kitahata offers an incredibly important set of skills to the Executive Director team with her Master of Divinity and extensive work with the ELCA, volunteer and service organizations, higher education, and a background facilitating organizational change for equity. Stacy has many ecumenical and interfaith connections and experience on multiple Boards and committees.
Mark Bach, also with an MA in Education, has both taught and worked in administrative roles along with Kathie in Taiwan, Japan, India, and the Seattle area, including work in fundraising, advancement, and partnership management. Most recently, he served as the Vice-Chair for the Grunewald Guild Board of Directors in Leavenworth, Washington and directed product launches with numerous state regulatory agencies for an innovative company transforming professional development across the US.
As a non-profit, Holden Village is governed by a 20-member board of directors whose role has been vital yet evolving over the Village's history of more than 60 years. The board's self-management policies require members to "emphasize outward vision rather than internal preoccupation." Board responsibilities include selecting executive directors, approving an annual budget, establishing policy, and electing members to fill board vacancies. Board members serve four-year terms and are limited to three consecutive terms, or 12 years, of service.
The board meets four times a year for varying lengths of time in different configurations of remote and in-person gatherings. Board meetings are held in the Village once per year (in the summer) and via regional gathering once per year (in the autumn) to reduce costs and environmental impacts from travel. Additionally, several committees which meet separately between these all-member board meetings.